Ove godine pročitao sam preko 200 naslova raznorazne fantastike, uključujući stripove. Do kraja godine ostalo je još mesec dana, što je sasvim dovoljno vremena da pročitam još neke odlične knjige - ili pak loše, ali pošto znam šta mi je na spisku znam i da nema izgleda da će te neke knjige koje tek treba da pročitam promeniti ukupan utisak o najboljim naslovima ove godine.
Zato, evo deset najboljih SFF romana koje sam ove godine pročitao, a da sam ih čitao prvi put. Za sada samo spisak, a u narednim danima i prikazi za svaki roman posebno:
The Fell Sword, Miles Cameron
Miles Cameron weaves a tale of magic and depravity in the sequel to The Red Knight.
Loyalty costs money.
Betrayal, on the other hand, is free.
When the Emperor is taken hostage, the Red Knight and his men find their services in high demand -- and themselves surrounded by enemies. The country is in revolt, the capital city is besieged and any victory will be hard won. But the Red Knight has a plan.
The question is, can he negotiate the political, magical, real and romantic battlefields at the same time -- especially when he intends to be victorious on them all?
The Goblin Emperor, Katherine Addison
The youngest, half-goblin son of the Emperor has lived his entire life in exile, distant from the Imperial Court and the deadly intrigue that suffuses it. But when his father and three sons in line for the throne are killed in an "accident," he has no choice but to take his place as the only surviving rightful heir.Entirely unschooled in the art of court politics, he has no friends, no advisors, and the sure knowledge that whoever assassinated his father and brothers could make an attempt on his life at any moment.Surrounded by sycophants eager to curry favor with the naïve new emperor, and overwhelmed by the burdens of his new life, he can trust nobody. Amid the swirl of plots to depose him, offers of arranged marriages, and the specter of the unknown conspirators who lurk in the shadows, he must quickly adjust to life as the Goblin Emperor. All the while, he is alone, and trying to find even a single friend . . . and hoping for the possibility of romance, yet also vigilant against the unseen enemies that threaten him, lest he lose his throne–or his life.
Katherine Addison's The Goblin Emperor is an exciting fantasy novel, set against the pageantry and color of a fascinating, unique world, is a memorable debut for a great new talent.
Blood Oranges, Caitlín R. Kiernan
My name's Quinn.

If you buy into my reputation, I'm the most notorious demon hunter in New England. But rumors of my badassery have been slightly exaggerated. Instead of having kung-fu skills and a closet full of medieval weapons, I'm an ex-junkie with a talent for being in the wrong place at the right time. Or the right place at the wrong time. Or…whatever.

Wanted for crimes against inhumanity I (mostly) didn't commit, I was nearly a midnight snack for a werewolf until I was "saved" by a vampire calling itself the Bride of Quiet. Already cursed by a werewolf bite, the vamp took a pint out of me too.

So now…now, well, you wouldn't think it could get worse, but you'd be dead wrong.
Skin Game, Jim Butcher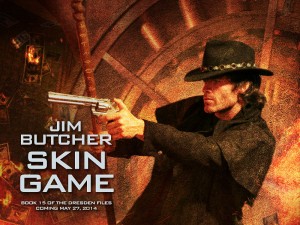 Harry Dresden, Chicago's only professional wizard, is about to have a very bad day…

Because as Winter Knight to the Queen of Air and Darkness, Harry never knows what the scheming Mab might want him to do. Usually, it's something awful.
.
He doesn't know the half of it…

Mab has just traded Harry's skills to pay off one of her debts. And now he must help a group of supernatural villains—led by one of Harry's most dreaded and despised enemies, Nicodemus Archleone—to break into the highest-security vault in town, so that they can then access the highest-security vault in the Nevernever.

It's a smash and grab job to recover the literal Holy Grail from the vaults of the greatest treasure hoard in the supernatural world—which belongs to the one and only Hades, Lord of the freaking Underworld and generally unpleasant character. Worse, Dresden suspects that there is another game afoot that no one is talking about. And he's dead certain that Nicodemus has no intention of allowing any of his crew to survive the experience. Especially Harry.

Dresden's always been tricky, but he's going to have to up his backstabbing game to survive this mess—assuming his own allies don't end up killing him before his enemies get the chance…
The Heroes, Joe Abercrombie
They say Black Dow's killed more men than winter, and clawed his way to the throne of the North up a hill of skulls. The King of the Union, ever a jealous neighbor, is not about to stand smiling by while he claws his way any higher. The orders have been given and the armies are toiling through the northern mud. Thousands of men are converging on a forgotten ring of stones, on a worthless hill, in an unimportant valley, and they've brought a lot of sharpened metal with them.

THE HEROES

For glory, for victory, for staying alive.
Prince of Fools, Mark Lawrence
Hailed as "epic fantasy on a George R. R. Martin scale, but on speed" (Fixed on Fantasy), the Broken Empire trilogy introduced a bold new world of dark fantasy with the story of Jorg Ancrath's devastating rise to power. Now, Mark Lawrence returns to the Broken Empire with the tale of a less ambitious prince…

The Red Queen is old but the kings of the Broken Empire dread her like no other. For all her reign, she has fought the long war, contested in secret, against the powers that stand behind nations, for higher stakes than land or gold. Her greatest weapon is The Silent Sister—unseen by most and unspoken of by all.

The Red Queen's grandson, Prince Jalan Kendeth—drinker, gambler, seducer of women—is one who can see The Silent Sister. Tenth in line for the throne and content with his role as a minor royal, he pretends that the hideous crone is not there. But war is coming. Witnesses claim an undead army is on the march, and the Red Queen has called on her family to defend the realm. Jal thinks it's all a rumor—nothing that will affect him—but he is wrong.

After escaping a death trap set by the Silent Sister, Jal finds his fate magically intertwined with a fierce Norse warrior. As the two undertake a journey across the Empire to undo the spell, encountering grave dangers, willing women, and an upstart prince named Jorg Ancrath along the way, Jalan gradually catches a glimmer of the truth: he and the Norseman are but pieces in a game, part of a series of moves in the long war—and the Red Queen controls the board.
Generation V, M. L. Brennan
Fortitude Scott's life is a mess. A degree in film theory has left him with zero marketable skills, his job revolves around pouring coffee, his roommate hasn't paid rent in four months, and he's also a vampire. Well, sort of. He's still mostly human.

But when a new vampire comes into his family's territory and young girls start going missing, Fort can't ignore his heritage anymore. His mother and his older, stronger siblings think he's crazy for wanting to get involved. So it's up to Fort to take action, with the assistance of Suzume Hollis, a dangerous and sexy shape-shifter. Fort is determined to find a way to outsmart the deadly vamp, even if he isn't quite sure how.

But without having matured into full vampirehood and with Suzume ready to split if things get too risky, Fort's rescue mission might just kill him.…
California Bones, Greg Van Eekhout
When Daniel Blackland was six, he ingested his first bone fragment, a bit of kraken spine plucked out of the sand during a visit with his demanding, brilliant, and powerful magician father, Sebastian.

When Daniel was twelve, he watched Sebastian die at the hands of the Hierarch of Southern California, devoured for the heightened magic layered deep within his bones.

Now, years later, Daniel is a petty thief with a forged identity. Hiding amid the crowds in Los Angeles—the capital of the Kingdom of Southern California—Daniel is trying to go straight. But his crime-boss uncle has a heist he wants Daniel to perform: break into the Hierarch's storehouse of magical artifacts and retrieve Sebastian's sword, an object of untold power.

For this dangerous mission, Daniel will need a team he can rely on, so he brings in his closest friends from his years in the criminal world. There's Moth, who can take a bullet and heal in mere minutes. Jo Alverado, illusionist. The multitalented Cassandra, Daniel's ex. And, new to them all, the enigmatic, knowledgeable Emma, with her British accent and her own grudge against the powers-that-be. The stakes are high, and the stage is set for a showdown that might just break the magic that protects a long-corrupt regime.

Extravagant and yet moving, Greg van Eekhout's California Bones is an epic adventure set in a city of canals and secrets and casual brutality--different from the world we know, yet familiar and true.
Burn for Me, Ilona Andrews
#1 New York Times bestselling author Ilona Andrews launches a brand-new Hidden Legacy series, in which one woman must place her trust in a seductive, dangerous man who sets off an even more dangerous desire . . .
Nevada Baylor is faced with the most challenging case of her detective career—a suicide mission to bring in a suspect in a volatile situation. Nevada isn't sure she has the chops. Her quarry is a Prime, the highest rank of magic user, who can set anyone and anything on fire.
Then she's kidnapped by Connor "Mad" Rogan—a darkly tempting billionaire with equally devastating powers. Torn between wanting to run and wanting to surrender to their overwhelming attraction, Nevada must join forces with Rogan to stay alive.
Rogan's after the same target, so he needs Nevada. But she's getting under his skin, making him care about someone other than himself for a change. And, as Rogan has learned, love can be as perilous as death, especially in the magic world.
City of Stairs, Robert Jackson Benett
An atmospheric and intrigue-filled novel of dead gods, buried histories, and a mysterious, protean city--from one of America's most acclaimed young SF writers.
The city of Bulikov once wielded the powers of the gods to conquer the world, enslaving and brutalizing millions—until its divine protectors were killed. Now Bulikov has become just another colonial outpost of the world's new geopolitical power, but the surreal landscape of the city itself—first shaped, now shattered, by the thousands of miracles its guardians once worked upon it—stands as a constant, haunting reminder of its former supremacy.

Into this broken city steps Shara Thivani. Officially, the unassuming young woman is just another junior diplomat sent by Bulikov's oppressors. Unofficially, she is one of her country's most accomplished spies, dispatched to catch a murderer. But as Shara pursues the killer, she starts to suspect that the beings who ruled this terrible place may not be as dead as they seem—and that Bulikov's cruel reign may not yet be over.