Što se mene tiče, 2017. je bila prilično mršava kada je o fantastici reč. Doduše, moram priznati da sam namerno izbegavao većinu hajpovanih romana, iz raznih razloga.
Međutim, čak i naslovi koji bi trebalo da su bili sigurice pokazali su se blago razočaravajućim. Tu pre svega mislim na najbolji roman koji sam prošle godine pročitao, Assassin's Fate by Robin Hob, ali i na poslednji roman u serijalu Fall of Dragons, koji čak nije ni u pet najboljih.
Bez mnogo obrazlaganja kako i zašto, evo pet romana koji su mi prošle godine najviše prijali, a po redosledu kako sam ih pročitao:
The Bear and the Serpent (Echoes of the Fall #2) by Adrian Tchaikovsky
Maniye, child of Wolf and Tiger, has a new soul and a new shape. But as Champion of the Crown of the World, does she represent an opportunity for the North – or a threat? Travelling as a bodyguard to the Southern prince, with her warband of outcasts, she hopes to finally discover her true place in the world.

But if only it was that simple. Tensions rise, and new allies face up to old enemies as civil war threatens to tear the South apart. Royal twins can't share a throne, so one must be chosen. And whoever rules the southern Sun River Nation will hold the fate of the world in their hands. As the protector of one potential heir, Maniye soon finds herself at the eye of a political storm. Yet all the while, an enemy from the most ancient of times prepares for conquest, and could destroy everything in their path…
Sins of Empire (Gods of Blood and Powder #1) by Brian McClellan
The young nation of Fatrasta is a turbulent place - a frontier destination for criminals, fortune-hunters, brave settlers, and sorcerers seeking relics of the past. Only the iron will of the lady chancellor and her secret police holds the capital city of Landfall together against the unrest of a suppressed population and the machinations of powerful empires.

The insurrection that threatens Landfall must be purged with wile and force, a task which falls on the shoulders of a spy named Michel Bravis, convicted war hero Ben Styke, and Lady Vlora Flint, a mercenary general with a past as turbulent as Landfall's present.

As loyalties are tested, revealed, and destroyed, a grim specter as old as time has been unearthed in this wild land, and the people of Landfall will soon discover that rebellion is the least of their worries.
Assassin's Fate (The Fitz and The Fool Trilogy #3) by Robin Hobb
More than twenty years ago, the first epic fantasy novel featuring FitzChivalry Farseer and his mysterious, often maddening friend the Fool struck like a bolt of brilliant lightning. Now New York Times bestselling author Robin Hobb brings to a momentous close the third trilogy featuring these beloved characters in a novel of unsurpassed artistry that is sure to endure as one of the great masterworks of the genre.

Fitz's young daughter, Bee, has been kidnapped by the Servants, a secret society whose members not only dream of possible futures but use their prophecies to add to their wealth and influence. Bee plays a crucial part in these dreams—but just what part remains uncertain.

As Bee is dragged by her sadistic captors across half the world, Fitz and the Fool, believing her dead, embark on a mission of revenge that will take them to the distant island where the Servants reside—a place the Fool once called home and later called prison. It was a hell the Fool escaped, maimed and blinded, swearing never to return.

For all his injuries, however, the Fool is not as helpless as he seems. He is a dreamer too, able to shape the future. And though Fitz is no longer the peerless assassin of his youth, he remains a man to be reckoned with—deadly with blades and poison, and adept in Farseer magic. And their goal is simple: to make sure not a single Servant survives their scourge.
City of Miracles (The Divine Cities #3) by Robert Jackson Bennett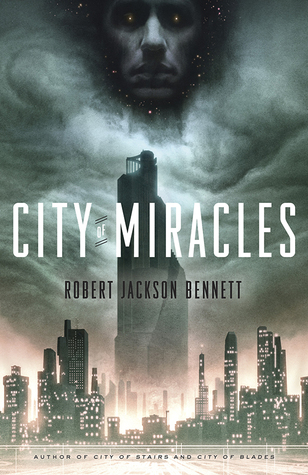 Revenge. It's something Sigrud je Harkvaldsson is very, very good at. Maybe the only thing.

So when he learns that his oldest friend and ally, former Prime Minister Shara Komayd, has been assassinated, he knows exactly what to do — and that no mortal force can stop him from meting out the suffering Shara's killers deserve.

Yet as Sigrud pursues his quarry with his customary terrifying efficiency, he begins to fear that this battle is an unwinnable one. Because discovering the truth behind Shara's death will require him to take up arms in a secret, decades-long war, face down an angry young god, and unravel the last mysteries of Bulikov, the city of miracles itself. And — perhaps most daunting of all — finally face the truth about his own cursed existence.
Blackwing (Ravens' Mark #1) by Ed McDonald
The republic faces annihilation, despite the vigilance of Galharrow's Blackwings. When a raven tattoo rips itself from his arm to deliver a desperate message, Galharrow and a mysterious noblewoman must investigate a long dead sorcerer's legacy. But there is a conspiracy within the citadel: traitors, flesh-eaters and the ghosts of the wastelands seek to destroy them, but if they cannot solve the ancient wizard's paradox, the Deep Kings will walk the earth again, and all will be lost.
The war with the Eastern Empire ended in stalemate some eighty years ago, thanks to Nall's 'Engine', a wizard-crafted weapon so powerful even the Deep Kings feared it. The strike of the Engine created the Misery - a wasteland full of ghosts and corrupted magic that now forms a No Mans Land along the frontier. But when Galharrow investigates a frontier fortress, he discovers complacency bordering on treason: then the walls are stormed, and the Engine fails to launch. Galharrow only escapes because of the preternatural magical power of the noblewoman he was supposed to be protecting. Together, they race to the capital to unmask the traitors and restore the republic's defences. Far across the Misery a vast army is on the move, as the Empire prepares to call the republic's bluff.